Castle School wins National Careers Award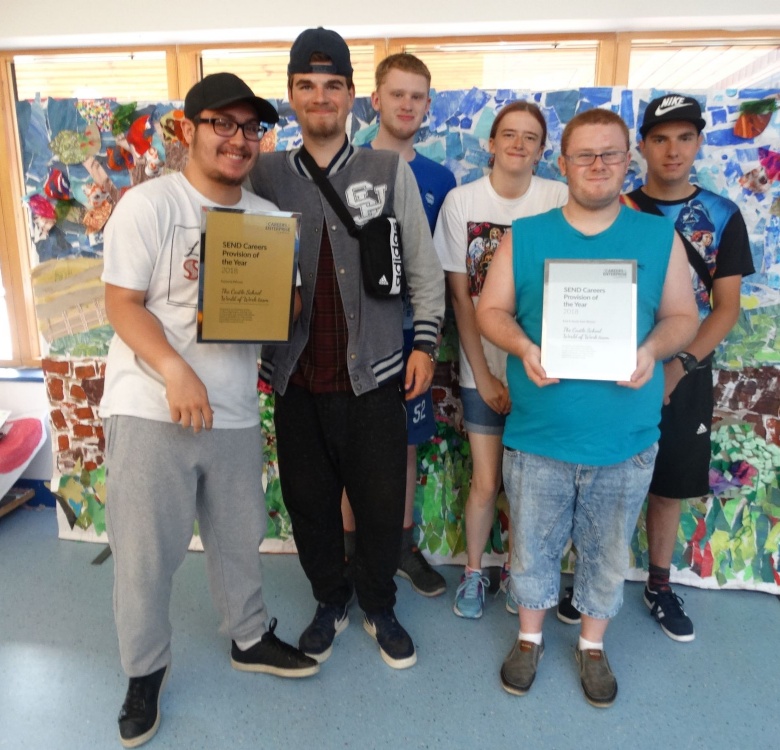 The Castle School has been recognised for its work supporting careers education and helping young people into the world of work. The organisation has been named the National Winner of the SEND Careers Provision of the Year award by the Careers & Enterprise Company.
The Careers & Enterprise Company Annual Awards 2018 recognise and celebrate inspirational work being done by schools and colleges, employers, volunteers and careers professionals around England.
A record number of over 200 nominations where submitted for this year's nine award categories, which were decided by panel of independent expert judges.
The World of Work (WOW) Programme at The Castle School aims to raise the career aspirations of students and support them in to work. Their three stage model of Work Experience, Work Placements and Supported Internships provides a clear pathway to paid employment. The team realise the importance of supporting employers just as much as the students and this has been critical to the success of the programme.
They believe that any students with the drive and desire to work can gain paid employment no matter what personal challenges they may face.
The Careers & Enterprise Company was established by government in 2015 to help schools and colleges, employers, funders and careers programme providers to create high impact careers and enterprise support for young people. They aim to inspire and prepare young people for the fast-changing world of work. The Company's 2000+ Enterprise Adviser Network of business volunteers currently works in over half of the country's secondary schools and colleges
Claudia Harris, Chief Executive of The Careers & Enterprise Company, said:
"Preparing young people for the fast-changing world of work has never been more important. There is incredible work going on in schools, colleges, employers and more across the country. We hope these awards are a small way to say thank you and shine a light on this amazing work."
Judge Nick Bowen, Principal at Horizon Community College and who sits on The Careers & Enterprise Company's Headteacher Advisory Group, said:
"This year we had a record number of entries. It was a real challenge to pick the winners because of the amazing quality of entries. This is a testament to the increasing excellence of careers provision and partnership across the country. Projects/schools/colleges/businesses/individuals like this are helping thousands of young people to fulfil their futures. They should be very proud of themselves."
Quote from the winner:
"The team are passionate about what they do and that is visible on a daily basis to all that they work with. To win this award is a fantastic recognition of all of the work that goes in to supporting students in to paid employment. For us, winning give us a great opportunity to share what we do in the hope that is will inspire others and continue to improve good practice across the SEND sector and beyond" James Whybra - Assistant Head Teacher
The Castle School is one of three regional winners in the SEND Careers Provision of the Year category. The Careers & Enterprise Company will announce which of the three strong shortlist is the overall national winner at its Annual Conference on Wednesday 4 July 2018.