Castle School World of Work Celebration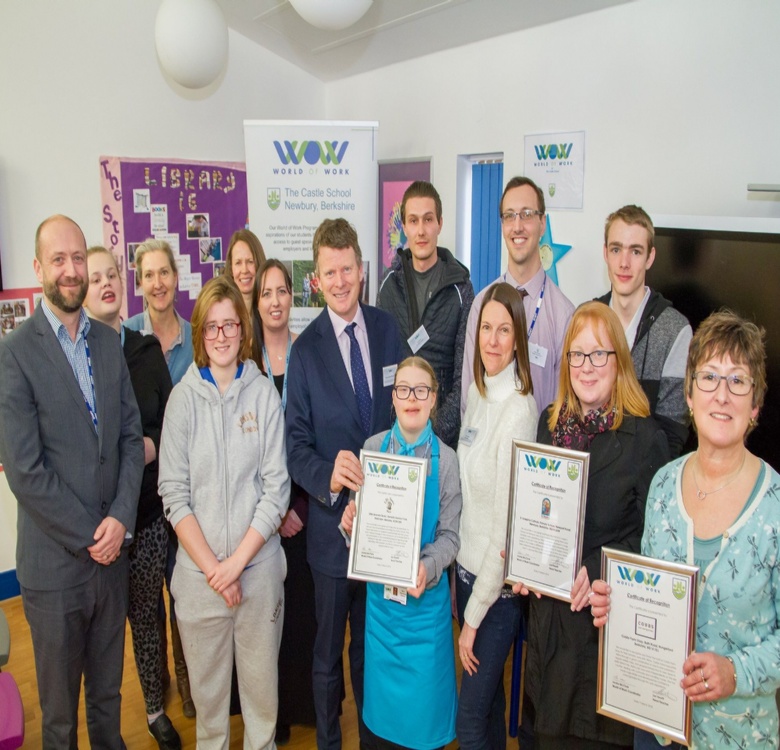 On Friday 9th March we held our annual "World of Work" celebration at the Castle School Post-16 unit. This is our opportunity to say thank you to all of the amazing organisations who support the World of Work programme by providing work experience or other ways for our students to interact with the workplace. It is also an opportunity to celebrate the progress made by the students and their achievements at work.
The event was attended by Richard Benyon, MP, the Mayor and Mayoress of Newbury and of Thatcham, as well as many of the companies who work with us. Guests were treated to a delicious buffet lunch, provided by Post-16's recently launched catering business – Castle Catering and Hospitality, with food prepared and served by the students.
Three local organisations – Cobbs Farm Shop, Little Quavers Music and St Joseph's Catholic Primary School – were presented with special awards to recognise the exceptional support they have given to Castle School students and the World of Work programme over the past year. The awards were presented by the Castle School students, who all said a few words about their work experience and how they feel it has helped them.
The World of Work programme prepares students for the workplace by raising their aspirations, helping with practical skills such as CV building and travel training, and arranging meaningful work experience, tailored to suit both student and employer. Work experience can take many forms and can provide great benefits for both student and employer. Long term work experience, combined with support from an educational establishment, is one of the most effective routes into employment for a young person with a learning disability.
The event was attended by representatives from: The Vineyard Group, Ways into Work, West Berkshire Council, Newbury College, Waitrose, Tesco, Deanwood Park Golf Club, Riding for the Disabled, Barclays Bank, Little Quavers Music, Cobbs Farm Shop, St Joseph's Catholic Primary School, Newbury Fire & Rescue Service, Winchcombe School, The Corn Exchange, The Watermill, The Community Furniture Project, Dingley's Promise, Herongate Leisure Centre, Thames Valley Police and the Newbury Weekly News.
For more information on the World of Work programme please contact Louisa McClure or Nicola Hall on 01635 516424 or lmcclure@castle.w-berks.sch.uk / nhall@castle.w-berks.sch.uk.