BASE Team of the Year Award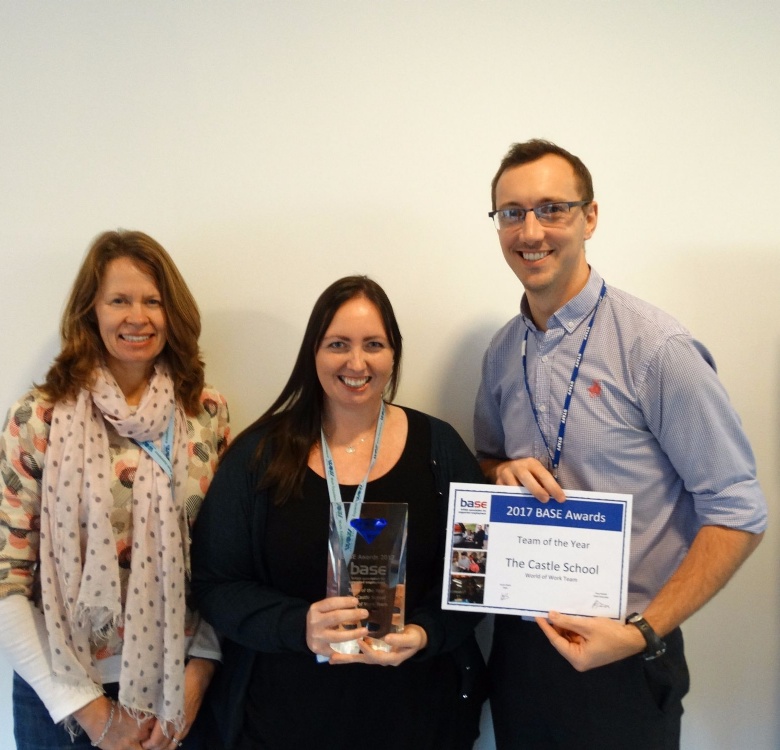 Nicola Hall (World of Work Assistant), Louisa McClure (World of Work Co-ordinator) and James Whybra (Assistant Headteacher Post-16)
It is with great pleasure that I can let you all know that we have had the wonderful honour of being named Team of the Year by The British Association of Supported Employment (BASE). This is a really incredible achievement, being the only school to have achieved this honour!
The award was given to us for our innovative and creative focus on ways into employment and recognises the hard work of all our staff and particularly our World of Work (WOW) Team, Louisa McClure and Nicola Hall. Here are the inspirational reasons we got the aware:
The WOW team work passionately to achieve outstanding outcomes for their students. They have built on last year's success of 100% conversion of supported internships in to employment. Over the past year a further 5 students have gained employment (which in a school of only 165 students aged from 3 -19 is an outstanding achievement). The team work individually with students to draw out aspirations and empower them to see employment as a real option and for most an expectation. Work experience must be meaningful for the student and employer and to ensure this we set clear targets for the student and employer.
Increase in employer engagement has been a focus over the past two years. The World of Work brand has helped employers to identify with the team resulting in 32 additional employers agreeing to work with us over the past year taking to total to 68. Employers locally will contact the team for advice and support in all areas of supported employment. Families of students are supported to ensure employment opportunities either don't get missed or are sustained. This can include support with applications, transport or helping families understand impact of earning on family benefits.
It is not simply just employment the team have focused on, but also the essential skills surrounding it. Travel training was historically funded and run through the Local Authority but unfortunately cuts have resulted in this no longer happening. The WOW team now incorporate travel training wherever possible. An example of the success of this has resulted in a student now travelling to and from school totally independently following their training with the team. (They also now travel to town at the weekends independently to meet up with friends!)
The team work closely with the Local Authority to raise awareness of supported employment which had a hand in the LA commissioning a supported employment service in 2016. The team continue to meet with the LA quarterly to ensure Supported Employment is still a priority and have recently agreed to become a hub for advice and support for all schools in the area. The WOW team work collaboratively with the LA Supported Employment service by creating strong work experience leading on to supported internships that can be further developed. Handovers of students to the LA Supported Employment Service have been seamless which is vital from the employer perspective.
The WOW team believe so strongly in employment for all that they have supported over 20 other schools/organisations to help them develop a similar programme in their setting through training sessions, meetings with leadership teams or presentations at conferences.
The WOW team are exceptionally proud of the fact that every member of Post-16 had at least one work placement. A great example of how they think differently is when a group of students with autism worked on a Christmas tree farm clearing the weeds. On paper these students can find change hard to cope with and can display anxiety with what can be perceived as challenging behaviours and it would be easy to not include them in work experience but as one member of the team always says 'someone has to do this job so why not students like ours'.
The team believe that any one with the drive and desire to work can gain employment. They are passionate and committed to changing the culture around disabilities and employment which is already seeing a change locally for all people with disabilities.