Tiverton News - Read all about it!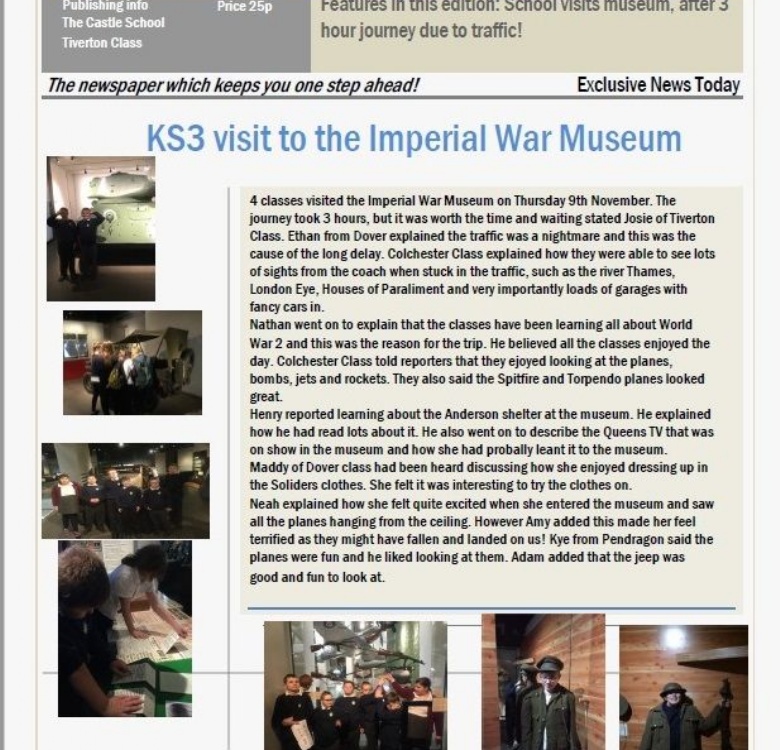 4 classes visited the Imperial War Museum on Thursday 9th November. The journey took 3 hours, but it was worth the time and waiting stated Josie of Tiverton Class. Ethan from Dover explained the traffic was a nightmare and this was the cause of the long delay. Colchester Class explained how they were able to see lots of sights from the coach when stuck in the traffic, such as the River Thames, London Eye, Houses of Parliament and very importantly loads of garages with fancy cars in.
Nathan went on to explain that the classes have been learning all about World War 2 and this was the reason for the trip. He believed all the classes enjoyed the day. Colchester Class told reporters that they enjoyed looking at the planes, bombs, jets and rockets. They also said the Spitfire and Torpedo planes looked great.
Henry reported learning about the Anderson shelter at the museum. He explained how he had read lots about it. He also went on to describe the Queens TV that was on show in the museum and how she had probably lent it to the museum.
Maddy of Dover class had been heard discussing how she enjoyed dressing up in the Soldiers clothes. She felt it was interesting to try the clothes on.
Neah explained how she felt quite excited when she entered the museum and saw all the planes hanging from the ceiling. However Amy added this made her feel terrified as they might have fallen and landed on us! Kye from Pendragon said the planes were fun and he liked looking at them. Adam added that the jeep was good and fun to look at.