Thank you to The VINCI UK Foundation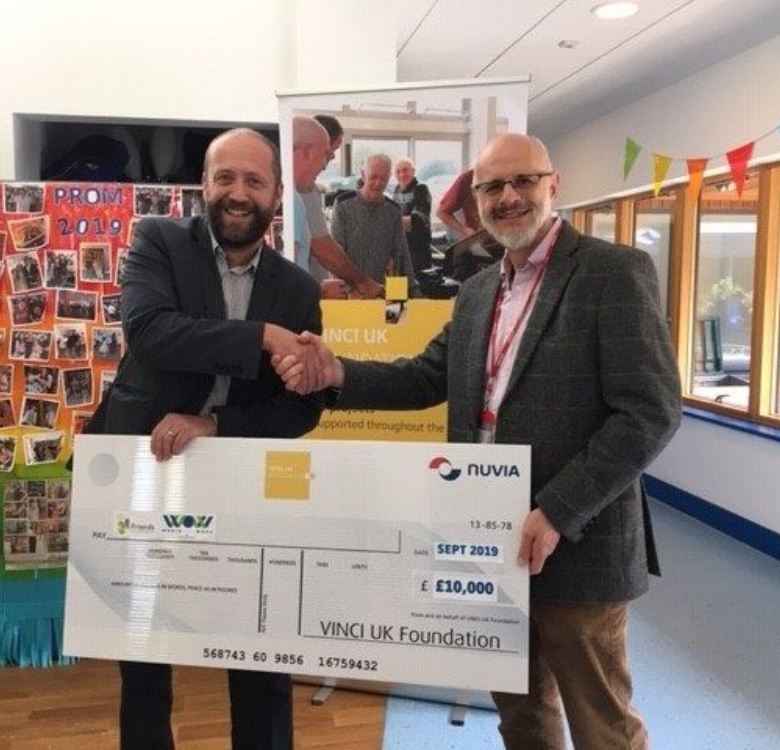 Pupils and staff at The Castle School Post-16 were delighted with a cheque donation of £10,000 to the Friends of Castle School from the VINCI UK Foundation towards the purchase of a multi-purpose vehicle for the World of Work (WOW) programme.
The multi- purpose vehicle, once purchased, will be used to transport pupils with complex learning difficulties to and from work placements which will give greater flexibility and will allow more students to get to work at short notice.
The cheque was presented by Chris Medlock, Corporate Communications Manager and Steve Brabon, Commissioning Manager from Nuvia, whose parent company is VINCI, to Jon Hewitt, Headteacher at the Castle School on Tuesday 24th September in front of pupils and staff.
Chris Medlock said "We are absolutely delighted to be able to help the Friends of Castle School with a contribution to help purchase a multi-purpose vehicle. Their World of Work (WOW) programme is an innovative model which has managed to help their pupils gain employment rates of 20% compared to the national average of 5.6% which is fantastic and the VINCI Foundation wishes to support schemes which help people obtain easier access to secure employment."
Jon Hewitt commented "We are overjoyed with the donation. It will make such a difference to the pupils as it will allow them more flexibility and greater access in getting to and from work placements and will reduce multi-vehicle usage. Long term work experience, combined with educational support, is one of the most effective routes into employment for a young person with a learning disability. We are very proud that a number of our students have gone on to gain paid employment following a work experience placement and we can continue, with this donation, to help them find their route to suitable employment."